This is all fun, pathetic, funny stuff, but Mahlstadt really distinguishes himself from his band proper on three overtly political masterpieces that survey the pillars of the current culture wars -- abortion, Iraq, and big business -- with black-comic irreverence and vicious satire. "I Miss the War" is as terrifying as anything the Sex Pistols ever recorded and as catchy as a Ramones tune, a PTS-wracked vet's wild-eyed withdrawal spasms as he craves more action, more violence, more desert sun, more free food. Next time I watch "The Hurt Locker" I'm cuing this up as the credits roll.

Even better -- and much less frightening -- is "Machines," sung by SITA drummer Michael Sienkowski. Here's a song Woody Guthrie might have written had he owned a small business in the age of Amazon and Netflix. "They don't need me anymore" sings Sienkowski as his lazy, ugly ass is downsized from a video store and then the mall -- "Machines, machines, they are ruining me, ruining the working man's dream." Sienkowski can't even hold down his gig with inBOIL -- at the end of the song the "Mr. Brightside" robot replaces him on lead vocals. With the possible exception of "When the President Talks to God," "Machines" and "I Miss the War" trump every half-assed indie protest song and indulgent Bush-bashing rock opera littered across the last decade. And I voted for McCain.

"Bro-Choice" is more of a subversive lark. Mahlstadt's baby won't stop crying, which wakes up his girlfriend, which wakes up the dog, whose barking wakes the neighbors, who call the cops. Groans Mahlstadt, "I told her it was a mistake we shouldn't keep ... She didn't listen," a slide-trombone sounding punchlines to confuse the question of whether Mahlstadt really considers this situation a valid argument for Roe vs. Wade.

Mahlstadt's overall intentions are a bit more serious than that. Consider the final track, "On the Run," a car-crash cousin to SITA's "Windshield." Writing a letter home from life on the lam, Mahlstadt recounts how he jumped in his car after a drunken fight with his girlfriend, ran over a kid, and decided to just keep on driving. "I want to start a new life, but I haven't got that far," he sings, and how could he, sleeping in motels and "the evidence of my car."

For all the cracking wise and stoner sloth inBOIL mock-celebrate, Malhlstadt knows that over-indulging in the slacker lifestyle is really one long, empty flight from responsibility. Because when you don't man up and be a father, or clean yourself up and try a little harder at work, or peel yourself off the couch and FIND a job in the first place, or sober up, or hand in your M-16, then you're alone with your late night TV quips, fighting back violent urges with a bottle of Jack.

The best jokes hurt a little. inBOIL's damn near kill you.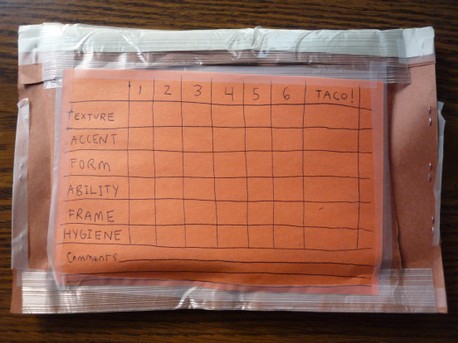 6 Tacos. Easy.




To hear inBOIL and order your own copy: http://www.myspace.com/inboil